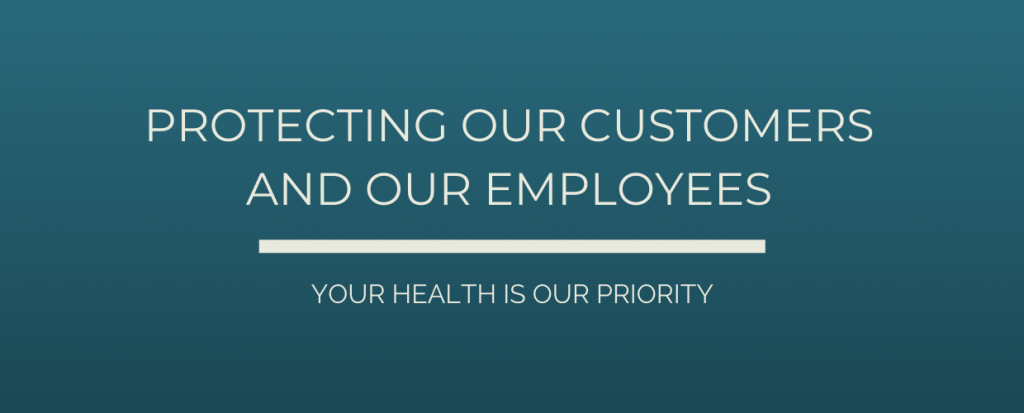 We, here at Desco, care about the health of our customers and our employees. To protect the health and wellness of our community, we are taking precautions to ensure we are following guidelines set by our public health officials.
In Our Store
We have setup precautions to reinforce public health guidelines, such as:
Placing social distancing reminders
Ensuring all visitors and employees are wearing facial coverings
Monitoring the flow of people coming in and out of our store
We also have hand sanitizing stations available and we are happy to offer a complimentary facial covering to any guest who does not have access to one. All high-touch surfaces are sanitized frequently, including doorknobs, counters, and machines.
If you are uncomfortable with coming into our store, we offer curbside pick-up, as well as various delivery and installation options for your convenience.
In Your Homes and Businesses
We work hard to ensure we are respecting your family, your employees, our partners on the jobsites and our own employees. Our policy has always been that we leave your home or business with the audio video system as our only evidence of our presence. And we extend that to the health and wellness of everyone at our jobsites.
Residential Projects
All employees entering your spaces wear face coverings and gloves. We require a hand-washing station in case removal of gloves is necessary.
To keep social distancing, we also ask all residential clients to maintain a distance of 10 feet to the best of their ability.  All our teams clean our workspace before, during, and after to protect their health and yours.
Commercial Projects
We acknowledge that each business or agency we work may have their own guidelines for their contractors.  In addition to the precautions we use during our residential projects, we work with you to ensure everyone is working in a health-conscious manner. 
We know that these are difficult times. We would like to thank you for working with us to protect our family and yours. If you have any questions or projects you would like to discuss, please contact us at (360) 943-1393.