Two-Channel Nirvana
The new feature-rich STR Integrated Amplifier marks the major re-entry of Anthem into the two-channel space. The revolutionary STR Integrated Amplifier features an entirely new platform and amplifier technology. Upping the "wow" factor for us is more power, more control, more connections, and the most advanced technology available in a single, easy-to-use component.
Designed, engineered, and Crafted in Canada, the STR Integrated Amplifier combines the benefits of an advanced preamp with the power of a massive amplifier and processor. It includes leading-edge DAC, onboard Anthem Room Correction (ARC™), customizable bass manager for mono or stereo sub outs, MM and MC phono inputs—far more than the average integrated amp. And it includes new generations of many of Anthem's award-winning digital signal processing innovations—delivering a noticeably higher level of audio performance realism.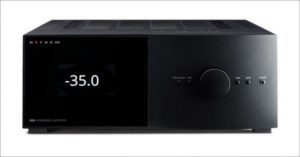 A major aspect of the STR Integrated amp is the Anthem's renowned Anthem Room Correction (ARC™). With the inclusion of ARC, two-channel listeners are now able to optimize their listening experience and achieve the very best sound experience possible in their room with the ability to target specific frequencies based on ARC's sophisticated room correction software.
The STR Integrated Amplifier is one of the few integrated amplifiers that can be fit into custom installation settings and controlled via high-end systems. The STR is priced at $4,499.